Client/Server and N-Tier Solutions
Custom Client/Server and N-Tier Solutions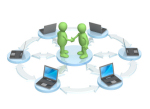 Distributed application architecture partitions tasks service providers (servers) and service requesters (clients). It is often common to further separate application processing and data management to form a multi-tier architecture, also known as an n-tier architecture.
Vast Experience with Data-Driven Solutions
Conquest Consulting posses a vast amount of experience in the development client/server and n-tier architectures. We have developed custom data-driven solutions in many vertical markets including medical, aerospace, field service, shipping and delivery, health and fitness, mobile, manufacturing, telecommunications and more.
Some of our completed client/server software development projects include:
Package shipping and tracking with mobile handheld solution
Custom field-service and CMS applications with wireless mobile thin and thick client interfaces
Internet interface to OEM equipment for remote data store and software field upgrades
Utilities server application for wireless remote control of OEM field devices
Server-based applications for automated manufacturing and data analysis processes
Secure Web portal interface to existing routing/scheduling systems
Web integration of combined PC, embedded, and handheld applications
We utilize the latest technologies on the market to employ our software solutions including (but not limited to): Microsoft .NET Framework, IIS, Exchange Server, Web Services, Remoting, Windows® Services, SQL Server, mySQL, MS Access, PHP, ActiveX, COM, Java, JavaScript, Perl, XML, SOAP.
Conquest Consulting provides custom client/server and n-tier software solutions using the latest technology to reduce costs and increase productivity.

"Conquest Consulting is the most professional software development company that I have ever worked with. They deliver what they promise on time and they are able to work within budget." - Robert Nutini, StarTrac, Inc.

Contact us at any time to learn more about Conquest Consulting or to discuss your software development needs.

860-626-7095